Get a Tax Credit of up to $2,000 on a New System* *Restrictions apply. Contact Integra Plumbing, Heating & Air Conditioning for complete details.
The BEST in Plumbing, Heating & Air Conditioning Services
---
Need a Repair?
$0 Service Charge!
(Savings up to $150)*
---
Call Us Today for a Trenchless Pipe Lining Installation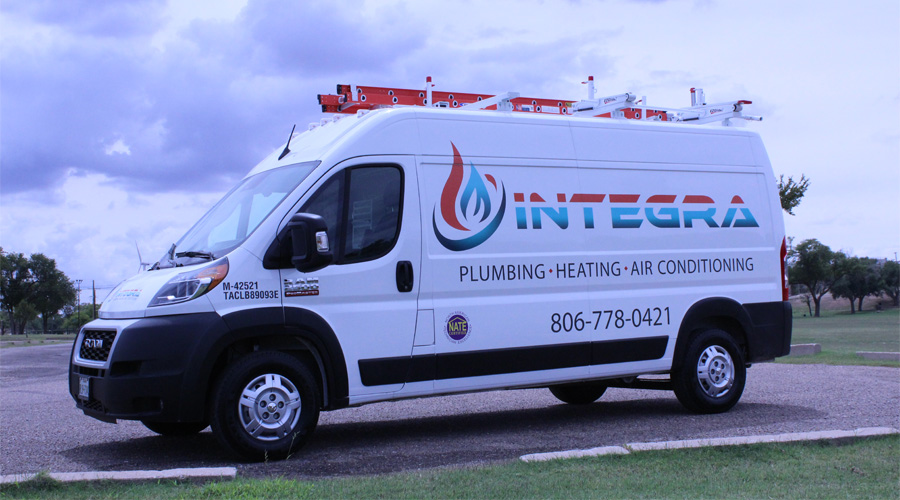 AC Repair & Heating Services in Levelland, Lubbock, Plainview, Brownfield & Surrounding Cities
You and your family deserve a house that feels like a home in even the harshest conditions. Integra Plumbing, Heating & Air Conditioning delivers reliable, high-quality AC repairs, plumbing, heating, and cooling services for every season and circumstance. We also service local businesses around the Lubbock, Plainview, and Brownfield, TX areas.
Comprehensive Services at Every Turn
---
Keeping the worst of Mother Nature at bay is a tough task, but we're always ready to take on the challenge. It starts with our supremely talented service technicians, all trained to provide outstanding service and a high level of expertise. We combine this expertise with using a variety of factory parts, including Carrier, and a full commitment to doing what's best for our customers. You'll find all the AC repair and plumbing services you need at Integra, including
Air Conditioning
Services
No matter how hot it gets outside, you can stay as cool as a cucumber with Integra. Our convenient service options include fast troubleshooting and optimum ac repairs, no-hassle scheduled maintenance, and brand-new ac system installations. Whatever your cooling needs, we'll help you find sensible solutions and achieve consistent, efficient comfort throughout your home.
Home Heating
Services
If you've ever paid a large energy bill during the cooler months, you know that heating a home can be costly. At Integra, we use the latest science and the best available heating equipment to help you stay comfortable for less. Above all, our team always delivers powerful and energy-efficient results.
Ductless Heating
and Cooling
When you need lasting comfort without the inconvenience of bulky ductwork, you need Integra's ductless HVAC services. From basic mini-split to full-scale multi-split systems, we have everything you need to take command of your comfort. Our friendly pros excel at evaluating your climate control needs and recommending powerful solutions that fit your home and budget.
Indoor Air Quality
Solutions
If the air in your home isn't clean and healthy, it doesn't matter how well you can control the temperature. Poor air quality inevitably leads to poor comfort, but it can also lead to poor health. We offer comprehensive indoor air quality solutions, including air cleaners, ventilators, and humidity control systems.
HVAC
Services
Whether you need a routine maintenance check or an emergency repair on your HVAC system, we can handle all your heating, cooling, and ventilation needs. Our team continually strives to exceed expectations by ensuring that each client receives the best HVAC services available.
Commercial HVAC
Services
If you aren't paying attention to your commercial HVAC system, you aren't giving your business the best chance to succeed. Simply put, quality climate control is essential in helping both employees and customers feel at ease. Integra is fully qualified to handle all maintenance, repair, replacement, and installation services.
Plumbing
Services
Experiencing a plumbing problem is never fun. However, our experienced service technicians will be there to help. We specialize in plumbing repairs, installations, water heater repairs, trenchless sewer pipe lining, and repiping services in the Lubbock, Plainview, and Brownfield, TX areas.
The Gold Standard
for Integrity & Reliability
At Integra, we understand you have plenty of options for managing indoor comfort. We could attract your attention with flashy ad campaigns, but we prefer to earn your trust with stellar customer service. When you choose to work with our team, you can be confident that you'll receive the best service possible.
Our expertise doesn't stop at AC repairs and plumbing services. For a team that puts integrity at the forefront of all concerns, give Integra a call today to discover the many ways we can help you feel more comfortable and content.
Why Choose
Integra Plumbing, Heating & Air Conditioning
High-quality workmanship, top-notch equipment, and comprehensive warranties
Great value and complete transparency, along with the ability to make the most informed decision possible
Friendly, helpful service from highly knowledgeable, NATE-certified professionals
100% Satisfaction Guaranteed
24/7 Emergency Services
Contact Us Today